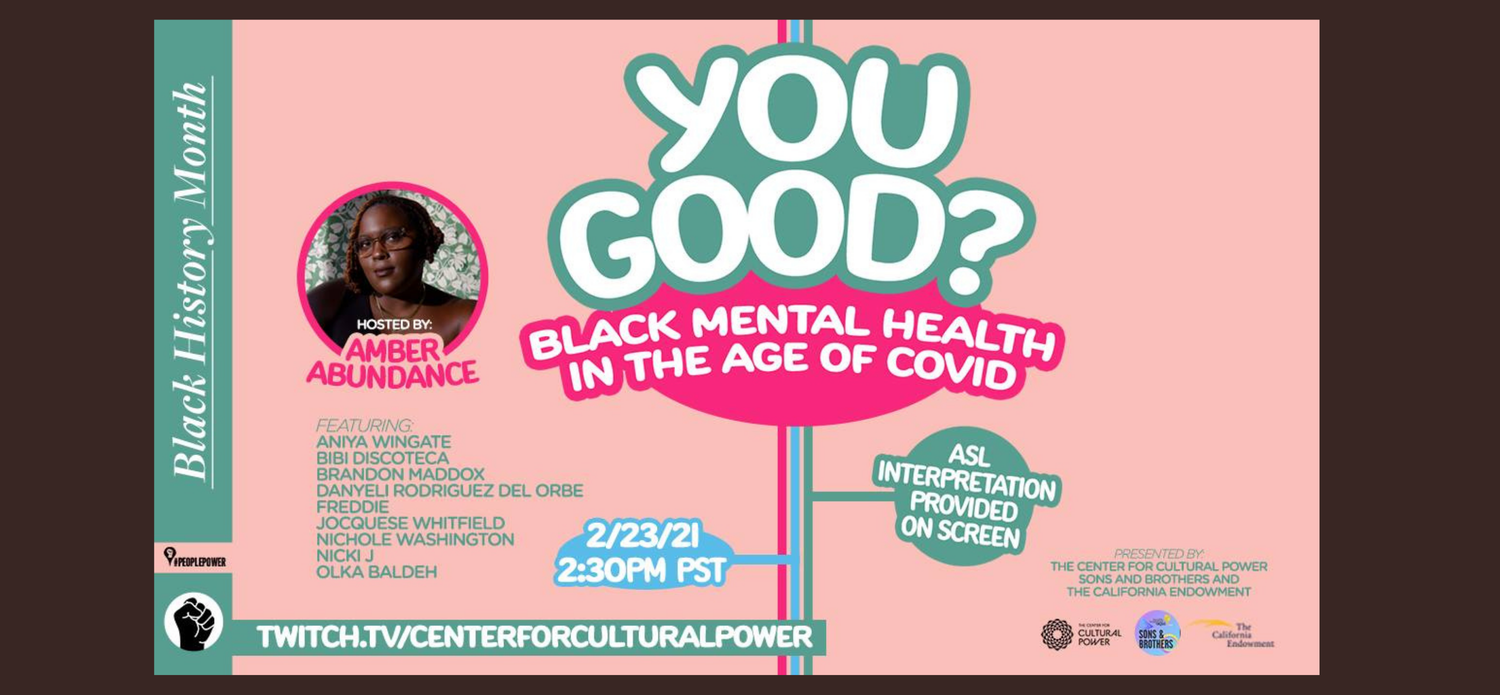 You Good? Black Mental Health
The Center for Cultural Power
March 05, 2021
This past year has been one big mental health crisis for Black folks across the country. A global pandemic, anti-Blackness out of control, and they still haven't run us our stimulus? It's time we had that conversation.
Artists help build power, starting by making space for mental wellness and helping us imagine the future we want. On February 23rd, Sons & Brothers, in partnership with The Center for Cultural Power and The California Endowment, hosted "You Good? Black Mental Health in the Age of Covid," a multimedia digital art extravaganza to meet the moment and hold space for Black emotional wellness. Hosted by Amber J. Phillips, You Good? brought together talented creatives from a wide variety of disciplines to share, explore, and unpack their ups and downs 10 months into quarantine.
Our dynamic lineup included visual artist Nichole Washington, dancers Jocquese L. Whitfield and Aniya Wingate, Drag performers Bibi Discoteca and Nicki J, poets Olka Baldeh and Danyeli Rodriguez Del Orbe, musician FREDDIE, and Amber J Phillips as our MC. The program delivered ASL interpretation by the lovely Brandon Kazen-Maddox.
In addition to a stellar talent list, organization leaders Favianna Rodriguez (The Center For Cultural Power) and Dr. Bob Ross (The California Endowment) dropped in to put the event in the cultural and public health context. To learn more about Sons & Brothers, check out our story and visit us- @Sonsandbros on all platforms.