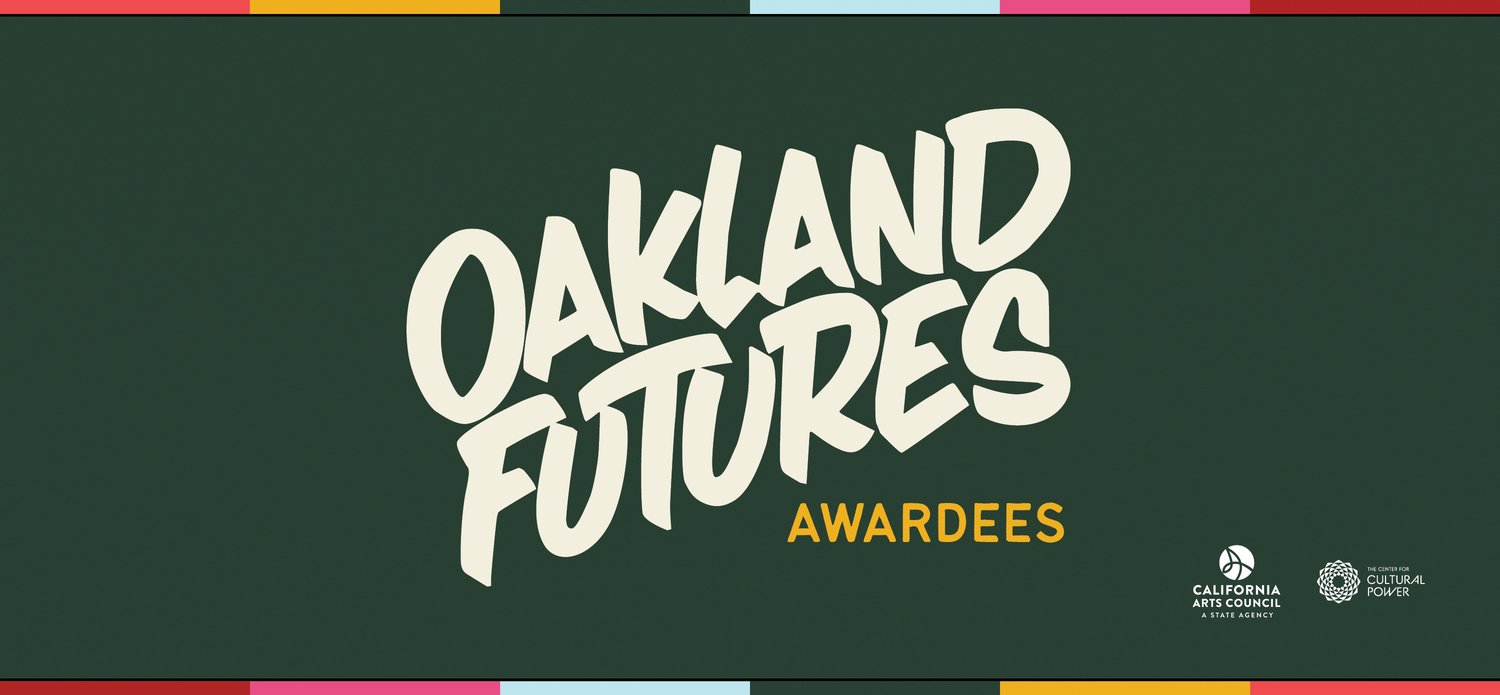 Oakland Futures Love Life Awardees 2023
Freddie Seipoldt
July 05, 2023
The Center for Cultural Power is pleased to announce the awardees of our Oakland Futures Love Life awards, developed in partnership with the California Arts Council. These twelve BIPOC artists build upon the Oakland Futures mission and four key issue areas:
Social justice and community engagement,
Water and energy conservation, climate mitigation, emergency preparedness, relief, and recovery,
Civic engagement, including election participation
Public health awareness messages to stop the spread of COVID-19.
Each awardee will be provided with $15,000 to develop new or existing artist content. We're excited to announce the following recipients:
Aima Paule – Aima Paule aka Aïma the Dreamer, They/Them, is a multi-disciplinary artist, musician, and activist. Aïma has been exhibiting art, performing, producing, and hosting events for over 20yrs locally in the Bay Area, CA, nationally and internationally. As a cultural curator, they create safer spaces for Women, QTBIPOC, and Immigrant communities to explore identity and intersectional justice issues through creative outlets, music, film, visual arts, fashion and culture.
Amber Julian – Amber Julian is a Bay Area-born, Oakland-based artist whose career in the arts has spanned the last two decades. Julian's style is marked by her rhythmic intensity and ferocity, utilizing her formal training in hip hop and house dancing to create a freestyle movement quality centered around the power of somatic healing.
Dame Taylor – Dame Drummer is a musician and filmmaker born and raised in Cleveland, Ohio. Since moving to Oakland, California, in 2012, he has toured and worked with a long list of artists, including Martin Luther, Aisha Fukushima, DâM Funk, Grand National, Mistah F.A.B, Zion-I, Black London, SF Symphony, Oakland Symphony, Grammy Nominated: Los Rakas, Prince protege and Soul-Train Award winner Liv Warfield and 3x Grammy Award winner Fantastic Negrito.
dohee lee – dohee lee is the Artistic Director for Puri Arts. Born on Jeju Island, Korea, dohee lee is trained in the practices of Korean Traditional arts which are deeply rooted in Korean indigenous practice (shamanism), which combines singing, dancing, drumming and costuming as part of healing rituals in village communities. dohee lee has been living and working in Oakland since 2002.
Herna Cruz-Louie – Herna Cruz-Louie is Executive Director of KULARTS and Co-Founder of their Agos Youth Program (formerly the American Center of Philippine Arts). After moving to the Bay Area in 2000, she performed with LIKHA-Pilipino Folk Ensemble as a musician and became their Executive Director from 2005-2008. For 26 years, Herna has taught Filipino dance, music and its origins to provide a safe space and engagement opportunities for people who identify with the Filipino/a/x American experience.
J.P. Dobrin – As a filmmaker, I've tackled immigration issues in my documentaries, exploring the stories of Venezuelans leaving their country in South America and DACA recipients in Oakland who opened up a food truck. However, I realized that Asian American immigration stories were largely absent from the media landscape, despite deportations happening in the Bay Area as reported by organizations like the Asian Law Caucus and the Asian Prisoner Support Committee. With my Korean American identity, I felt I was well-suited to tell this story.
Lena Chen – Raised by immigrant parents who immigrated from Kaiping, China in the 1980s, I am a San Francisco-born writer, scholar, and artist currently pursuing a PhD in Performance Studies at the University of California, Berkeley. Encompassing new media, participatory performance, and immersive installation, my practice examines the contradictory experiences of womanhood: the state of being simultaneously revered and vilified, desired and rejected, empowered and objectified.
Melecio Estrella – ​​I am a queer Pilipino artist, brother, father, choreographer, director, convener, educator and 21 year resident of Oakland. I am the artistic director of BANDALOOP where our mission is to "celebrate the human spirit, nature and communities through dance that uses climbing technology".
Sarah O'Neal – Sarah O'Neal is a Black and Maghribi poet, writer, and artist born and raised in the SF Bay Area. Sarah's work grapples with the impact of historical trauma on familial memory and the way systems of oppression impact the most intimate detail of our lives. Her work is deeply rooted in the Bay Area and Oakland specifically, and is informed by interests in mourning rituals, queer poetics, and Black liberation.
Sen Mendez – Sen Mendez (they/them), also known as Queen Sen, is a non-binary indigenous (Otomí and Nahua-Pipil) interdisciplinary artist, cultural practitioner, entrepreneur, and educator deeply rooted and born in the Huichin Ohlone Territory/Oakland, California.
Trey Amos – Trey Amos, a.k.a fiveminusdeuce, is a multidisciplinary artist originally from Nashville, TN. His mediums range from DJing to Spoken Word. He moved to the Bay Area in 2014 after being awarded a teaching artist fellowship through Youth Speaks, INC. In this role Trey worked with youth at dozens of schools throughout the Bay and beyond using Hip-Hop as the basis of his curriculum.
Yaminah Abdur-Rahim – Yaminah Abdur-Rahim is a Black feminist, multidisciplinary artist and researcher from Oakland, CA. She works primarily in video, performance and sculpture. She began in grassroots artist spaces, exhibiting in Bay Area galleries such as Galeria de la Raza (San Francisco) and Omiiroo Gallery (Oakland).
With a goal to create and catalyze public narratives that compel our city to invest in Oakland's BIPOC arts and culture communities in unprecedented ways, we are very grateful to everyone who applied for these awards. The Center for Cultural Power stays committed to seeing Oakland artists thrive, and we look forward to providing future opportunities that support cultural narratives.