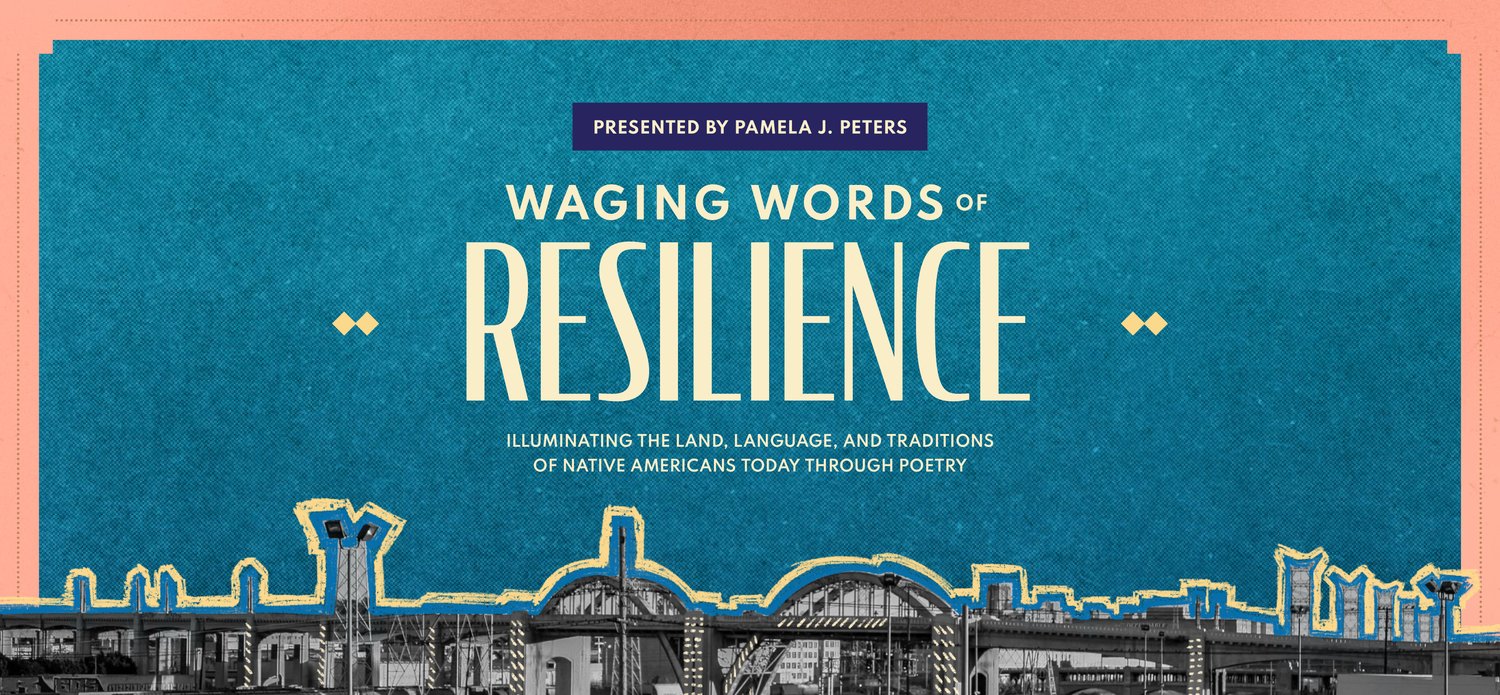 Waging Words of Resilience
Freddie Seipoldt
April 28, 2023
At the heart of The Center for Cultural Power lies a core belief that drives much of our work both as artists and as an organization–cultural change precedes political change. As water protectors and land defenders continue to hold the front line against the fossil fuel industry and US imperialism, we're honored to close poetry month by uplifting four incredible Indigenous poets for the second year in a row. Presented by filmmaker and storyteller Pamela J. Peters, Waging Words is a celebration of the land, language and traditions of Native Americans today, and a call on community and allies to be inspired towards action. The theme of this year's event is RESILIENCE.
Pamela J. Peters was born and raised on the Navajo Nation, and currently resides in Los Angeles. As a Diné (Navajo) multimedia artist and documentarian, Pamela endeavors to capture the essence of her Indigenous culture through her work by utilizing still images, digital video, and words on a page to share those stories. As "one Navajo living in a city", she uses her first traditional clan Táchii'nii' (red running into the water) to identify her photography work. Her vision is to share the contemporary Native American perspective of cultural values through creative faucets from photography, filmmaking, curating, and hosting cultural events. Through poetry and prose, distinctive digital storytelling, and compelling visual images, Pamela shapes an authentic Native American narrative in multi-dimensional ways to counter the historically narrow depictions of the true Native American experience in America. She refers to her creative work and storytelling as "Indigenous Realism" as it often situates contemporary Native narratives in a nostalgic historical environment that allows history to be retold with direct participation from Native Americans in a modern context.
Tabitha Smith is an emerging Poet/Writer from Sacramento, CA, and is an enrolled member of the North Fork Mono Tribe, Eagle Clan, on her Grandmother's side, and Concow, Maidu and Wailaki from Round Valley Indian Tribes on her Grandfather's side. She attended American River College and San Diego State University studying Astronomy, American Indian Studies, and holds a certificate in Working in Contemporary Native Nations through the UCLA School of Law TLCEE Program. Her pieces have been published in several editions of News from Native California and highlight topics that span from the California Native experience to mental health awareness. Tabitha works as an administrative professional, provides mentorship within her local Native community, and creates traditional beadwork. She currently resides in North County San Diego, CA with her Husband Jason and fur babies, Koda and Domino.
Jessica Fremland (Wahpetunwan Dakota) is a poet based in Kumeyaay territory in what is commonly called San Diego, California. She is a PhD candidate in Gender Studies at UCLA studying the intersection between aesthetics and Native feminist resistance. Her zodiac big three are: Aquarius sun, Scorpio moon, and Libra rising.
Daniel French, MFA (Mohawk, Chicano) is a multi-instrumentalist, composer, poet & MC from Los Angeles. He's a founding member of LA's Las Cafeteras. French has performed on stages from Bonnaroo to the Hollywood Bowl, WOMAD to Montreal Jazz & beyond. Rocking shows with diverse acts like Michael Franti, the Halluci Nation, the Gypsy Kings, & Edward Sharpe & the Magnetic Zeroes. His trilingual poetry & music has been featured in award-winning shows like Kamau Bell's United Shades of America, Party of Five (2020), Telemundo telenovela Bajo El Mismo Cielo, & even the Nobel Prize Summit. Daniel also holds his MFA in Socially Engaged Art at Otis College of Art & Design. Follow his creative journey at @frenchismexican
Marlon Footracer is Diné, Water-Flows-Together clan, born for One-Who-Walks-Around-You clan. Marlon was raised in Tsé Síaní (Lupton, AZ). He attended Stanford University where he majored in Creative Writing with an emphasis in poetry. He has worked as a non-profit strategist and consultant for development and capacity building, specifically focusing on non-profits that work to end homelessness in New Mexico/Navajo Nation border towns. Currently, he works for the Tribal Law and Policy Institute (Los Angeles, CA). In his personal creative work, he was named the Taos Writers Conference Native American Writer-In-Residence Award recipient in 2015. He is currently unpublished, but enjoys taking poetry classes at the Institute of American Indian Arts in the Continuing Education department.
Artists and culture bearers will continue to fuel our movement towards returning the land back to Indigenous stewardship and imagining a world in which we live in harmony with nature. We at The Center for Cultural Power believe in resourcing the artists within our network and providing opportunities to uplift their work within the community and beyond. Video from this month's event will be available soon. In the meantime, check out the links below to learn more about our network of artists and partners and the Artist Leadership work that we do.