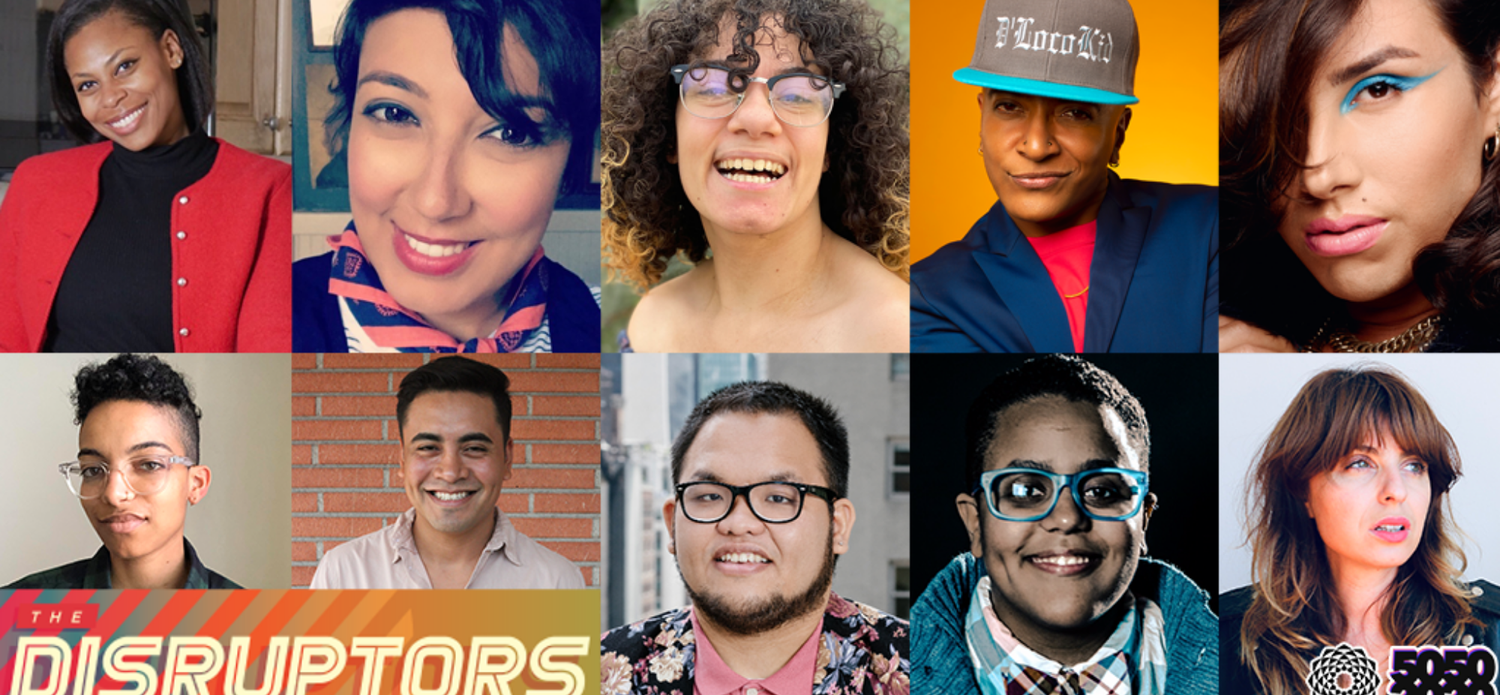 Screenwriting Fellowship Breaks the Mold
The Center for Cultural Power
August 18, 2020
The Center for Cultural Power and 5050by2020's inaugural Disruptors Fellowship exceeded all goals even while being launched during the COVID-19 pandemic. This unprecedented 14-week fellowship supports emerging television writers of color who also identify as transgender, non-binary, disabled, undocumented and/or formerly undocumented. (Hear from the fellows)
"This fellowship is a game-changer not only because it supports artists that are often marginalized or silenced, but because we are facing a pivotal point in our history," says Favianna Rodriguez, President and Co-founder of The Center for Cultural Power, "We have the power to change the culture of hate and suppression to one that is inclusive, equal, just and caring by supporting artist disruptors with a system of support and tools to succeed and have their stories be told."
As communities of color and minorities including LGBTQ and disabled communities continue to be disproportionately affected by unemployment, violence, and health issues, they are also left behind in the stories we see on-screen and in the power positions behind the scenes. "It's ironic that the storytellers with the most interesting perspectives and life experience are often shut out of Hollywood. If the current landscape has taught us anything it's that life is thorny, complicated, nuanced and....wait for it.... DIVERSE. It's about time our television screens reflect that," says fellowship mentor Ryan O'Connell. (Will & Grace, MTV's Awkward, creator and star of Netflix's Special.)
Creating a fellowship such as The Disruptors is crucial in providing a pathway for these storytellers to be seen and heard as well as creating a network of support for their future, especially during a pandemic. "Like the rest of the world, the pandemic pushed us to get creative and move entirely online," says Julio Salgado, Migrant Storytelling Manager for The Center for Cultural Power, who co-managed the fellowship alongside 5050by2020's Gina Young. "In many ways, it brought a lot of the fellows closer, because during a world crisis, the fellows were able to turn to each other for creative support."
Young agrees. "Fellows were given a mentor in their field who most likely shared one of their identities, access to showrunners, agents and execs who want to support their work, plus Final Draft screenwriting software and $6,000 in financial support. Even from the start of the fellowship it was very clear-- the talent is here, Hollywood, call them in!"
Kryzz Gautier, member of the Undocumented and Formerly Undocumented cohort, signed with world-renowned talent agency CAA and management company Mazo Partners over the course of the fellowship and is currently shopping her latest TV pilot. Gautier is a prime example of what fellowships like these can accomplish, and why it is important to continue to create programs and systems that disrupt the status quo, diversify and truly represent what life looks like. "Having a fellowship that highlights creators who tell authentically diverse stories is a positive step towards progress. Helping diverse writers smash through the glass ceilings we keep hitting is what's going to change the industry," said Gautier.
Guest speakers such as Linda Yvette Chavez, co-creator of Netflix's hit show Gentefied, gave the fellows tips about how to stay true to their ideals while working in Hollywood. "This is a pivotal time in Hollywood's history. Now more than ever our industry is in serious need of filmmakers and creators that speak to the varied identities and experiences that represent our nation and world. Storytellers that disrupt and shake the system with their powerful and radical voices. We can no longer settle for allowing those voices to sit on the margins, which is why supporting fellowship programs like 5050by2020's The Disruptors that uplift these voices is critical. Not only for the good of these fellows, but for the good of us all," says Chavez.
The culmination of the fellowship was The Disruptors Showcase 2020, a two-day, professionally produced online showcase, Executive Produced by Gina Young and Live Produced by Melanie D'Andrea. Each of the fellows selected an excerpt from their pilot to have brought to life by talent including groundbreaking disabled model, actor and influencer Jillian Mercado (The L Word: Generation Q, Glamour, Olay), Cloie Wyatt Taylor (How to Get Away With Murder, Superstore, Crazy Ex-Girlfriend), Ellie Desautels (Rise, Disclosure Documentary), John Billingsley (Star Trek: Enterprise, True Blood, Masters of Sex), Vico Ortiz (Vida, American Horror Story, These Thems), and Melinna Bobadilla (Orange is the New Black). The readings were presented live on Zoom to over 200 industry executives including representatives from ABC, CAA, Disney, Fox, NBC, Netflix and UTA.
"The showcase was smart, sexy, radical and astoundingly diverse. There is a sea change happening in Hollywood, and The Disruptors fellowship proves that investing in underrepresented voices is the key to equity on screen-- and great storytelling!" - Joey Soloway
The complete list of fellows includes Jacquelyn Revere, Natalia Provatas and Roma Murphy in the Disability Cohort, Armando Ibañez, Kryzz Gautier, Set Hernandez and Rongkilyo Tamara Yajia in the Undocumented/Formerly Undocumented Cohort, and D'Lo, River Gallo and Yasmin Almanaseer in the Trans and Non-Binary Cohort.