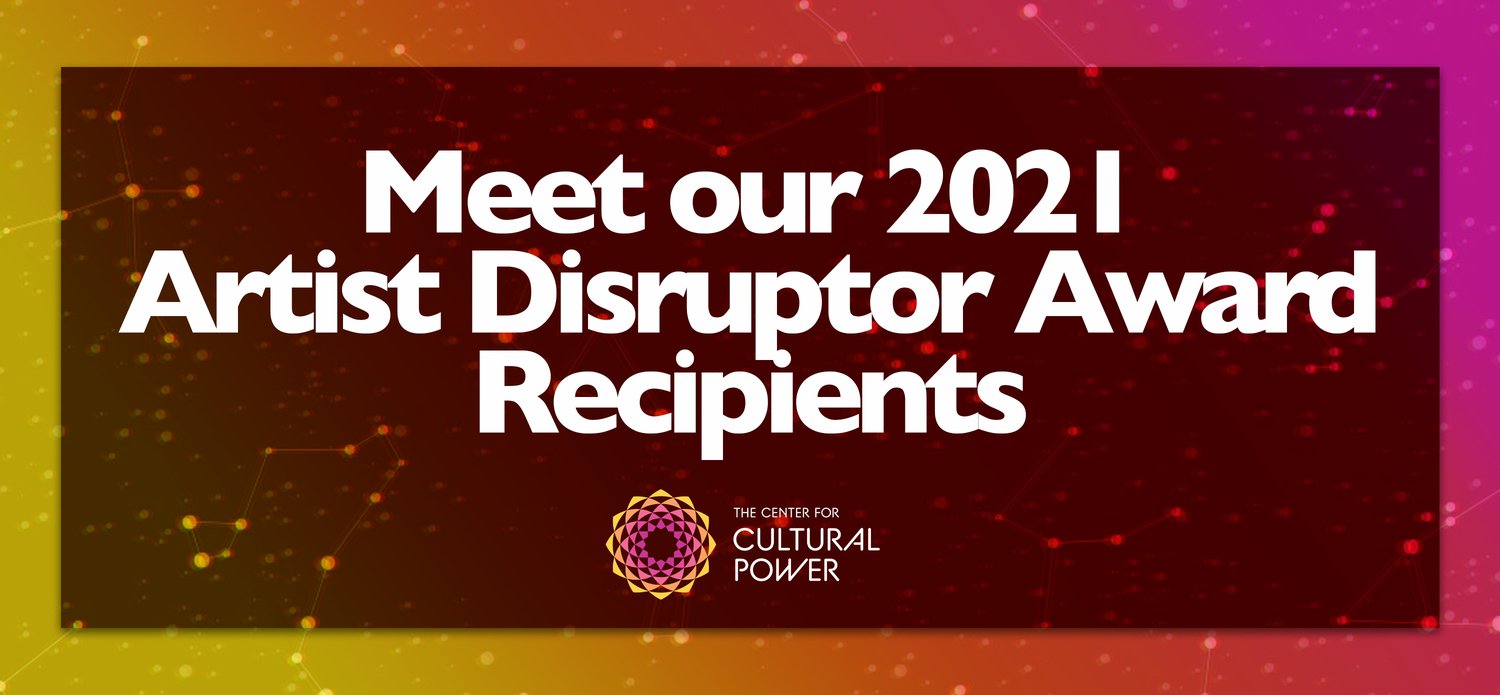 The Center for Cultural Power and Constellations Uplifts 25 Artist Disruptors
The Center for Cultural Power
November 16, 2021
The Center for Cultural Power is proud to present the Artist Disruptor Award to support artists, artist collectives, culture bearers, and those who steward the environment through art across the nation.
The Center for Cultural Power's Constellation Committee nominated these artists showing diversity in Artistic Discipline: visual arts, literary arts, music, tv and film, performing arts, traditional arts, etc.
These artists were awarded $2,000 each for Project or Professional Development. The artists are all BIPOC and majority are from Indigenous Communities and representing the U.S. South, Border Regions, and Midwest regions.
Congratulations to all of our recipients:
Carlton "C.J" V. Bell II (they/them) is a southern Black queer culture & community centered theatre/film artist— They are an advocate & agent for representation through change in the way Art is landscaped globally. "I hope to continue to inspire, make space, & take space for other performers across the African Diaspora."
Mer Young is a published artist who has created a body of artwork manifested in collages, drawings, paintings, and founder of Mausi Murals public artworks. Young's artworks aim to bring awareness, inspire, celebrate and elevate repressed indigenous, first nations and native cultures and women of color. Her works also focus on matters of immigration and the uprising to justice, equality and complete freedom of Black Lives.
Rachelle Salnave is a filmmaker and cultural leader working mainly in the independent film industry with over 20 years of experience with a focus on the Black Global stories. The first of a handful of filmmakers to document the gentrification of Harlem, works include capturing stories about the Haitian Guantanamo Bay experience, Macadamia Nut planting experiments in Guatemala and spotlighting Haitian identity and its society.
Sharon Day is a Two Spirit Ojibwe from the Bois Forte Band. I live in Center City and work in Minneapolis leading the Indigenous Peoples Task Force. I lead water walks along rivers to save our waterways.
Kevin Shaw is a director, producer and cinematographer. Kevin Shaw has created award-winning content for national television networks. His next directorial work, "Let the Little Light Shine," is a co-production with ITVS.
Paige Pettibon (Black, Salish, White) is a Tacoma, Washington based multidisciplinary artist. Her studio practice is to represent her diverse culture and to amplify the voices of people in her community. Her mediums include; acrylic, charcoal, jewelry making, and she is currently developing her oil painting skills.
Najee Omar is a black, queer, multidisciplinary artist creating magic with his beloved community in & around Brooklyn.
Aisha Shillingford is a multi-disciplinary artist, designer and cultural strategist originally from Trinidad & Tobago. I am an alumna of Laundromat Project's Creative Change Fellowship, a member of the New Museum Incubator, an inaugural Fellow at the Race Forward Butterfly Lab for Immigrant Narrative Strategy, and a former Artist in Residence at Boston University Art Galleries. I have exhibited work during Miami Art Week, Boston University and Betti Ono Gallery. My written work has been published in Black Discourse and Grantmakers In the Arts. My work has been commissioned by the Movement for Black Lives, Root Rise Pollinate and Creative Wild Fire.
Willow Naomi Curry is a Houstonian writer, social practice artist, and arts reporter/critic whose work focuses on the communities and political + economic forces that shape Houston and the Gulf Coast. In addition to her current projects—the photography project The Fourth Ward Photo Parlour, touring the United States as part of the group exhibition We, Women: A Visual Rebellion, and a YA novel based on deadly environmental pollution in the majority-Black neighborhood she grew up in, Willow is a National Book Critics Circle Emerging Critics Fellow and contributing arts writer for Southwest Contemporary magazine.
Jon Goff is a multidisciplinary artist, curator, and arts administrator. His body of work includes extensive institutional, community, and family archival research, visual documentation, and oral history interviews in the coastal South on the legacy of Black land ownership and Gullah Geechee heritage preservation. Jon engages with his work from the paradigm of a social change instigator.
Jasha Lyons Echo-Hawk (Ti-tatatsiks-stariiku) is a self-described "Intertribal Love Song" belonging to the Seminole, Pawnee, Iowa, Omaha, and Mvskoke Creek Nations. They are Two-spirit and have been honored to hold space as a Birthworker and student midwife as they see the reclamation of birthkeeping and rematriation as a path to collective liberation as well as civic engagement.
Brittany Shyne is an independent filmmaker based in Dayton, Ohio. Working in the narrative and non-fiction artform her work seeks to depict the complexity of everyday life by examining themes such as personal histories; alienation; and cultural modernization.
Lily Hope (Tlingit) is an artist, teacher, and a community facilitator. She intertwines indigenous techniques and spiritual teachings with intergenerational artist communities, supporting and enthusing Chilkat and Ravenstail weavers internationally.
Teddy Dorsette III is a social entrepreneur, disability advocate, and filmmaker from Detroit Michigan.
Aly McKnight, b. 1991 in Reno, NV, is a Native American (Shoshone-Bannock Tribe) female artist, whose art features vibrant colors and Indigenous styles. She believes that art has a way of connecting people, illuminating our stories, and inspiring change in the world that no other form of communication can.
Nitashia Johnson is a multimedia artist and educator from Dallas, Texas, who truly has a passion for creating. Nitashia Johnson is currently work as a graphic designer, freelance photojournalist, and creative educator.
Dakota Camacho is a Matao/CHamoru multi-valent creative activating values of ináfa'maolek, ináguaiya, and inágofli'e'.
Kalyn Fay Barnoski (Cherokee Nation, Muscogee Creek Nation) is a multi-disciplinary artist, musician, curator, and activist from Oklahoma. Her work focuses on the interrogation of historically centered knowledge and systems through the implementation of Indigenous methodologies for community (building good relations!).
Ivan MacDonald and Ivy are Blackfeet filmmakers based in Montana. There work focuses on indigenous stories through a lens of decolonization, culture and revitalization.
Colleen Thurston is an award-winning media producer and documentary filmmaker from Tulsa, Oklahoma. As an Indigenous non-fiction storyteller, her films explore the relationships between humans and the natural world and focus on Native stories and perspectives.
Brian Larney, a native-born Texas, is a true urban American Indian. A full-blood American Indian and a Choctaw of Oklahoma and a citizen of the Seminole Nation of Oklahoma, he is the chairman for the American Indian Heritage Day in Texas (AIHD) and Indian Citizens Against Racial Exploitation (I CARE). 
 Brian's visionary leadership has led the grass-root organization into a viable status among the Indian Country USA. AIHD celebrated its 8th anniversary. The state law, American Indian Heritage Day, designates that last Friday in September is observed for the contributions made by the American Indians to the State of Texas. I CARE addresses the negative and stereotypes in reference to the American Indian culture and heritage. 
 Being a gifted and talented artistic and creative person, he is a professional creative art director in the advertising world. With his computer skill, knowledge of applications, and latest technologies, he is a respected and award winner for his outstanding works. Even though Brian Larney is a well know Southeastern tribal artist (Choctaw/Seminole) and his pieces are well represented in many venues, he is in a "semi-retired status. However, his beautiful work continues as he designs outstanding cultural images through the American Indian Heritage Day in Texas.
Nyjia is a Washington D.C. native, she's worked in public television with Black Public Media, and the Center for Asian America Media. She's worked in development with MTV and has been a field producer and senior producer on numerous docuseries and reality shows. Her current film LISTEN TO MY HEARTBEAT, looks at the gentrification of Washington, D.C. through the gaze of the city's folkloric music. LISTEN TO MY HEARTBEAT, has been awarded development support through ITVS's Diversity Development Fund, BAVC MediaMaker Fellowship, BLACK PUBLIC MEDIA 360 Incubator, the FIRELIGHT MEDIA Documentary Lab and the SUNDANCE Uprise program.
Benjamin Alex Dupris is an enrolled member of the Colville Confederated Tribes where he grew up. His work centers Indigenous people's relationship to the changing landscape of 21st Century pop culture and social justice movements.
Patiño Xochitlzihuatl Houle is an Uto-Aztecan, Celt double woman and plant skyborg (socio-cultural cyborg, working in the interest of nature). We are an doula of transformation and black jaguar alien building an intergalactic culture of liberation through time travel and shapeshifting.
Mankwe M Ndosi is a Culture Worker using creative practice to nurture relationships with her community, ancestral legacies, and the earth. Her work is aimed at healing through the interconnection and liberation of our personal, social, and terrastral structures, practices, and mythologies.