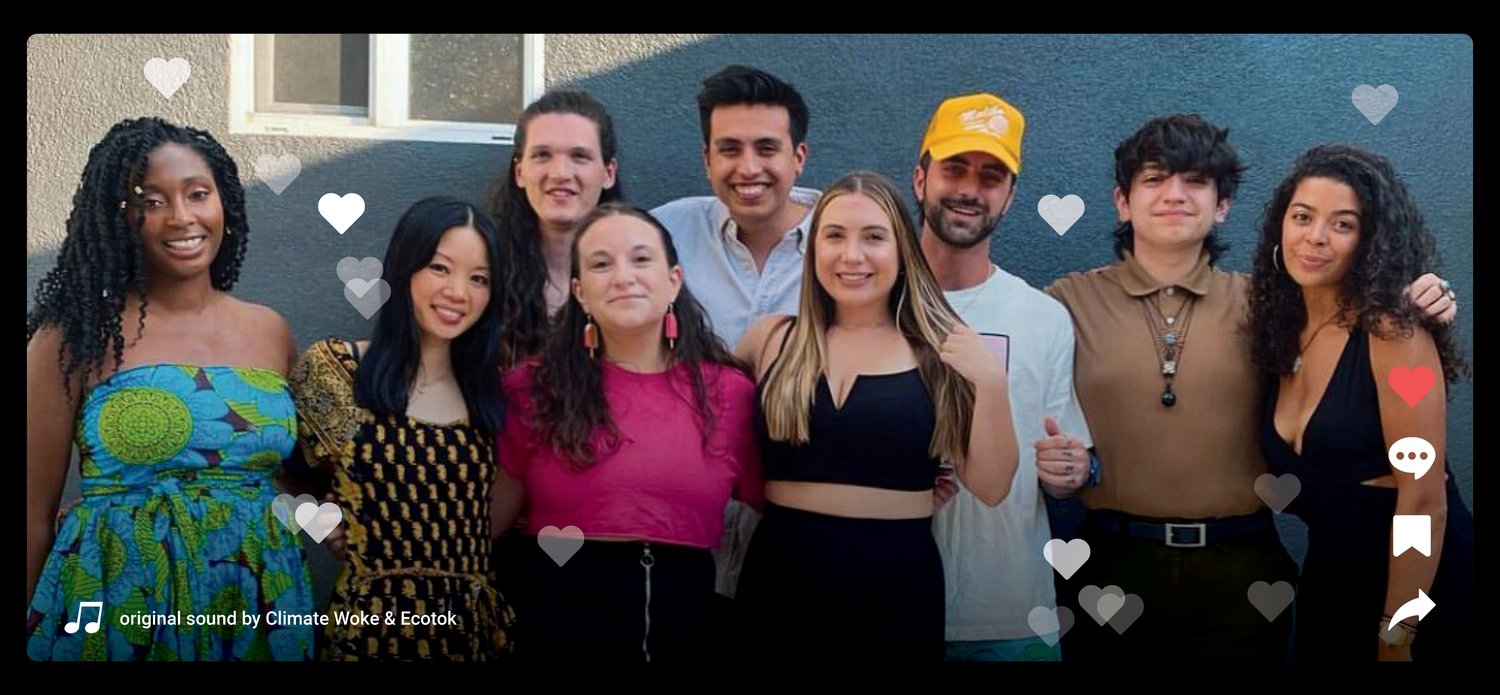 Activating Climate Leaders in Social Media Spaces
The Center for Cultural Power
February 13, 2023
Doom scrolling is something too many of us have become accustomed to doing but the young climate activists of TikTok have a different goal: to educate and inspire. The EcoTok Collective is a collaboration of creators providing education on climate change, activism, and science – and they are disrupting the digital landscape! The collective uses TikTok for good by empowering the younger generations to do something about it by teaching them about science, activism, and ways to make changes in their own life.
Home to 19 environmental educators and activists from different backgrounds, the group brings humor and a heavy dose of awareness to the table. In January, The Center for Cultural Power partnered with EcoTok creators for the second time as part of our Climate Woke program, spearheaded by Sr. Program Manager of Climate, Jeannine Kayembe-Oro. In 2021, we were thrilled to partner on Earth Day and this year the focus of our collaboration is to shine light on our ongoing climate crisis through supporting artist leaders, digital education, data-driven content, and community activism.
These insightful EcoTok thought leaders brought us discussions on evergreen topics aligned with Climate Woke narrative strategy like #LandBack, as shared through the lens of Zahra Biabani, and Climate Leadership with Wawa Gatheru. Alex Silva shared about the realities of Climate Migration, and together we learned about Racial Bias in Disaster Reporting through Gabrielle Langhorn. We even welcomed Kristy Drutman, an OG collaborator within our artist network back to our community with a conversation on Just Transition!
Take a moment to follow EcoTok on TikTok and Instagram, and it's creators Alex Silva, Gabrielle Langhorn, Isaias Hernandez, Kristy Drutman, Doria Brown, Wawa Gatheru, Christine Lan, and Zahra Biabani.

To listen to all of the dynamic conversations with topics on Queer Environmentalism, Food Apartheid, and Compassion in Climate Crisis, visit the Climate Woke YouTube channel
Featured photo by @sabrina.sustainable.life
Image description:
Nine EcoTok creators stand together and smile at the camera. They are people of many backgrounds and body types. Some are wearing bright and colorful clothing and others are wearing more muted tones. Their arms are around one another and hearts float around them with a TikTok-style border. In the bottom left corner, there is a song titled, "Original sound by Climate Woke & EcoTok".