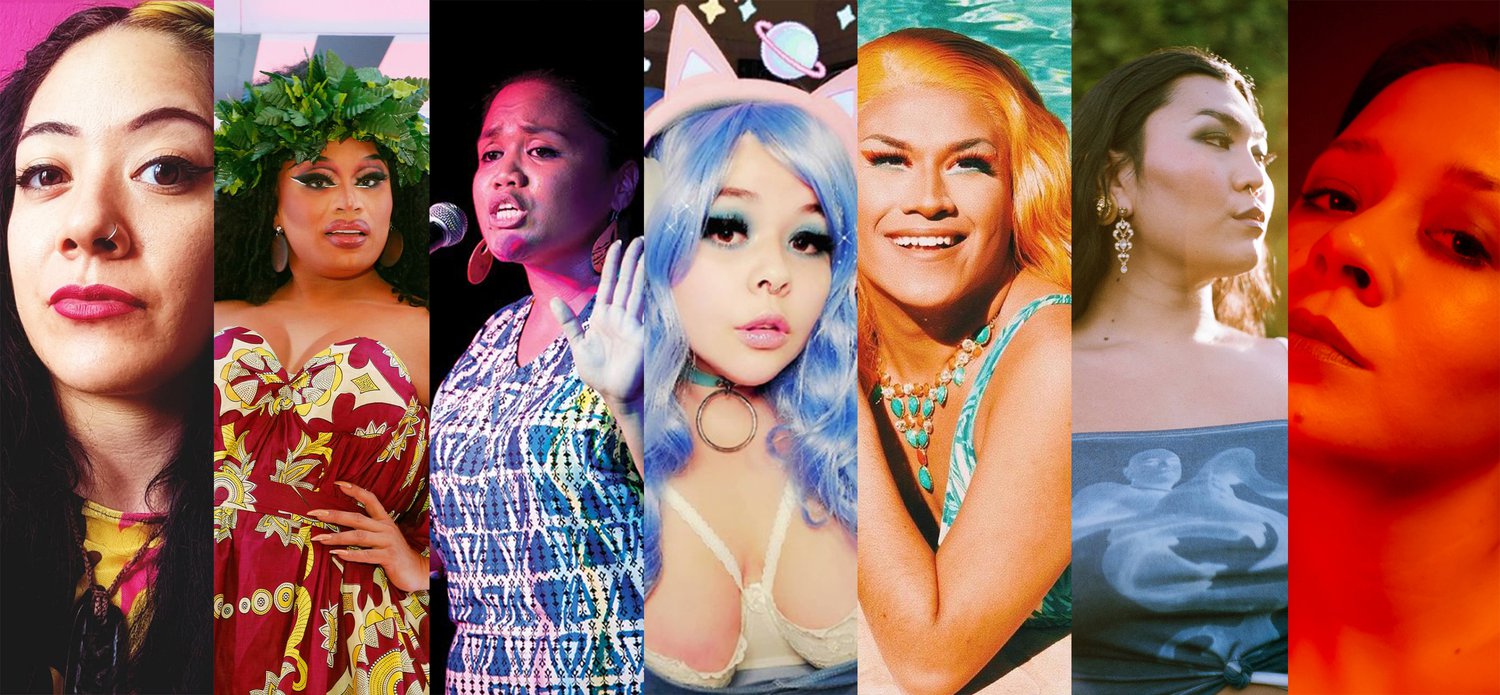 PASIFIKA POWER!
The Center for Cultural Power
May 25, 2021
May is Asian-American and Pacific Islander (AAPI) Heritage Month, a time to celebrate and uplift the voices and the cultures of a number of groups we often don't hear about. In 2021, that type of celebration feels much needed. With anti-Asian hate crimes on the rise, and the #StopAsianHate movement making waves internationally, AAPI Heritage Month is affecting folks differently.
When we hear "AAPI" used in media and political discourse, though, we are often only hearing from the first half of that initialism. Countless articles and blogs claim to uplift AAPI voices but ignore Pacific Islanders, their culture and their history altogether. This only serves to reinforce ongoing erasure and neocolonialism.
We'd like to take this opportunity to uplift some incredible Pacific Islander artists that have been creating culture and building power for their communities all over.
MOMOE i MANU AE ALA ATEA'E TASKER
Block printer Momoe i manu ae ala atea'e Tasker is a multitalented suga from London. Born in Taitoko, Aotearoa, her cultural lineage is a mixture of Samoan-Chinese and English heritage. Momoe is a member of In*ter*is*land Collective, vocalist/shared songwriter in queer sax punk band GUTTS and drummer in QTIPOC punk band Immigranti. Momoe's work investigates the marginalization of women of color, feminism, abuse, decolonisation and cultural identity. Through creative activism Momoe aims to strengthen solidarity within overlooked communities. ''Be a good ancestor and stay mighty!''
BRITA FILTER
YOU BRITA WORK! Brita Filter is a New York City drag legend. Though relatively young in drag years, Brita was named NYC Entertainer of the Year at the Annual Glam Awards in 2018 and went on to be the first contestant of Polynesian (Tongan) descent to compete on the internationally acclaimed drag competition RuPaul's Drag Race.
Brita is also co-chair of Drag Out The Vote, a nonpartisan nonprofit that works with drag performers across the country to promote participation in democracy.
TERISA SIAGATONU
Bay Area represent! Terisa Siagatonu is an award-winning poet, teaching artist, mental health educator, and community leader born and raised in San Francisco, California. Siagatonu is a queer Samoan woman with a powerful presence and a body of work that has impacted the world of Climate Activism, Slam Poetry, and beyond. With over 10 years of community work, Terisa Siagatonu has built a legacy advocating for Indigenous and Pacific Islander communities, LGBTQ+ folks and women everywhere. No list would be complete without her.
Check out some of Terisa Siagatonu's work here.
HOLLY GRAPHICS
Holly Graphic is a Filipina-American drag performer and graphic designer. A resident of the Bay Area for the past ten years, Holly has been a staple in the drag scene in many ways, from managing and producing backstage to performing on stage. As a graphic artist, Holly focuses on children's media as well as producing art for Bay Area performers using color and graphic shapes to bring joy and happiness to all ages. By day, Holly is a Montessori teacher to the children of downtown San Francisco.
MADAME DIAMOND MONTANA
Madame Diamond Montana is beauty and elegance personified. Having only started doing drag roughly two years ago, the Orlando-based performer has filled her Instagram feed with pages and pages of exquisite fashion and detailed makeup looks that practically scream Vogue editorial.
"I thought of using my drag as a way for me to express my cultures and how proud I am to be an Asian Pacific Islander" - Madame Diamond Montana
We're smitten with this poolside beauty and we know you will be too!
YŪKO
"Yūko, Mother Flora, Yuki - these are all names that I answer to depending on where/how we met. I am a māhū ho'owahine born and raised on the island of Kaua'i to a Japanese-Uchinanchu (Okinawan) father and a hapa Japanese-Kānaka (Hawaiian) mother. Although, I have been a settler on traditional lands of the Multnomah, Chinook, Cowlitz, Wasco, Kathlamet, Clackamas, Tualitin, Kalapuya, and Molalla peoples (colonially acknowleged as portland, oregon) going on 6 years now.
I think the thing I'm most known for being is a woman, a mother, and a sister, but in true gemini nature I'm also many things, like a performer, a sex worker, a makeup artist, a bookkeeper, a student, a transsexual, and a socialist. Some of the things that inspire me are my relationships with other women and girls of trans experience, the rich history of māhū people throughout Hawai'i and the Pacific, high-femme maximalism, and my chosen family."
SIDNĒ
When it comes to delivering powerhouse vocals and electro rock magic, Sidnē scores nothing but high marks. Raised on a diet of Iron Maiden, the San Diego-based artist, formerly known as L.A. Girlfriend, is a storyteller and an instant classic. Sidnē weaves an affinity for distorted and electronic soundscapes with moody lyrics to transport listeners to a world of '80s nostalgia.
Watch the music video for Sidnē's latest single "High Marks" on YouTube.
Pasifika people are multifaceted, diverse and powerful. They are punk, they are glamour and they refuse to be erased.