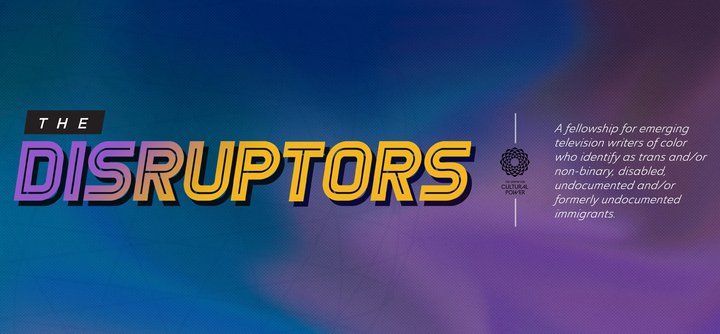 Disruptors Fellowship 2021
The Center for Cultural Power
February 05, 2021
EDITOR'S NOTE: This application has closed.
The Center for Cultural Power is pleased to announce the return of The Disruptors Fellowship.
Co-created and launched in 2020 by The Center for Cultural Power and 5050by2020, this fellowship aims to disrupt Hollywood and its persistent lack of diverse narratives by offering emerging writers the opportunity to use their unique voices to tell their stories for a true representation of what this country looks like.
After a successful first year, this year's fellowship offers a three-month learning program to ten LA-based television writers of color who identify as trans and/or non-binary, disabled, undocumented and/or formerly undocumented immigrants. "For us it is important to support cultural shifts and disrupt the norm so that communities who have been kept out of writing rooms are able to break through. With this fellowship we are providing future generations not only with tools and a skill set but also with a network that will support and help them achieve their goals as storytellers," says Favianna Rodriguez, President and Co-founder of The Center for Cultural Power.

The Disruptors Fellowship is an unprecedented fellowship supporting emerging television writers of color who identify as transgender, non-binary, disabled, or undocumented/formerly undocumented. This 3-month fellowship for LA-based emerging talent includes mentorship, professional development, master classes and a $6,000 stipend. While COVID-19 continues to cause significant hardship in our communities, it is also a catalyst for unprecedented cultural change. At The Center for Cultural Power we are doubling down on our commitment to invest in artists and storytellers to help us reimagine a new world where we all belong and thrive. Our L.A.-based fellowship will continue to be fully online, so that we can prioritize the health and safety of our participants, instructors and staff. More information over at artistdisruptors.org