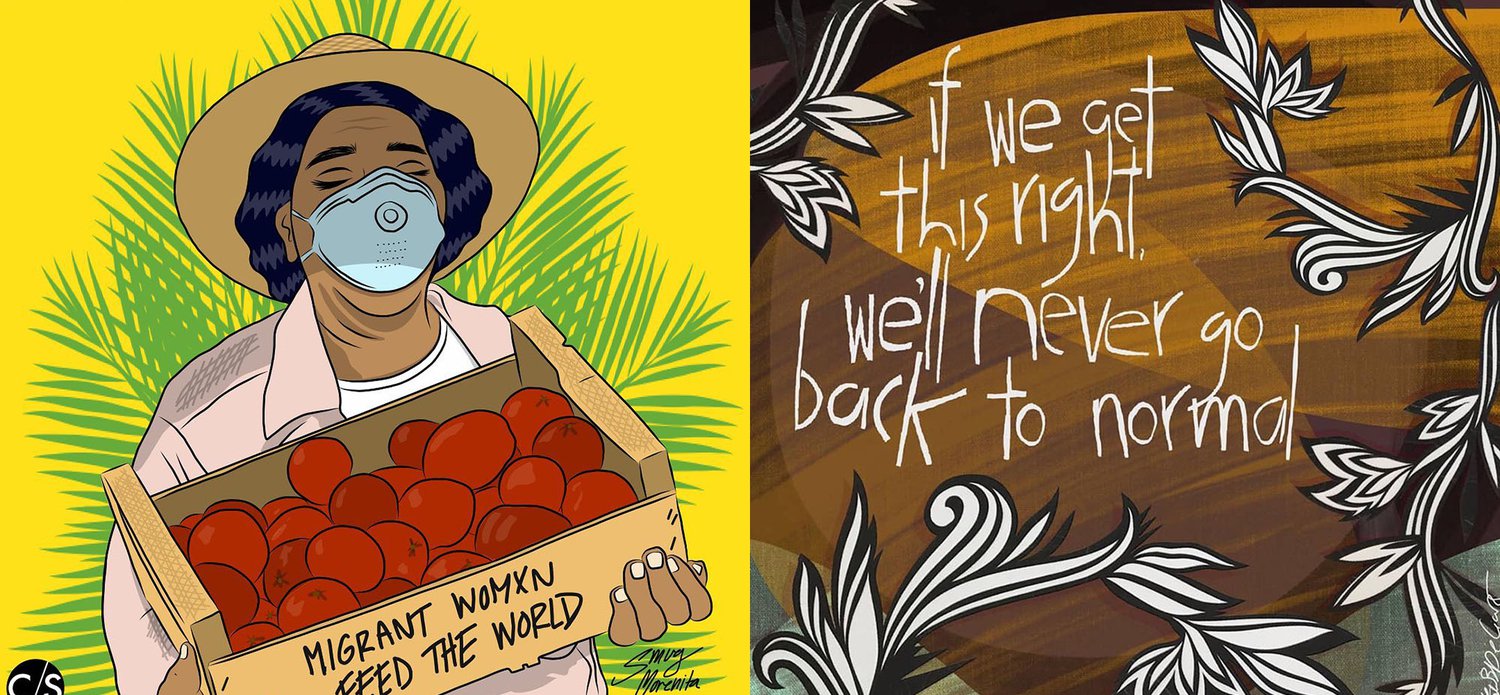 Confronting Crisis With Imagination
The Center for Cultural Power
April 23, 2020
In times of crisis we look to art to make sense of our world. During the days of Coronavirus shelter-in-place, the digital landscape has become our gallery and stage. Culture pulses through these realms to heal, inspire, empower, to uncover injustice and help us imagine a new future. In March 2020, The Center for Cultural Power began amplifying art through our social media platforms that exemplified the power of culture at this moment. We sourced content and worked with artists who 1) uplift highly-impacted communities from a place of strength and dignity, 2) focus on movement demands for tangible solutions 3) skillfully weave storytelling through visual art. Amplifying communities on their own terms is at the heart of effective cultural strategy. [View the artwork and social media posts on our Instagram platform and the link below].
Taiwanese and Indonesian American artist Eda C. Yu's photo sequence ranked as the top performing post during a time of increased hate crimes against Asian and Asian American communities. The three-part visual art series features popular symbolism in the fight against Coronavirus, including cleaning products, face masks, and toilet paper. Yu's art and messaging reclaims agency to make a statement from a community's perspective. No surprise that our multi-talented Migrant Storytelling Manager and Cumbiatón Resident Artist Julio Salgado is the creator behind another top performing post. The pointed and provocative messaging of "Welcome to Living Like Us" asserts the existence and experience of undocumented communities. Through his art, Salgado creates the opportunity for undocumented people to see themselves and each other in this current moment. The simple and bright color palette is striking. The illustration uplifts undocumented migrant and refugee folks during a public health crisis that mandates shelter-in-place and exposes the privilege and access afforded to some but not all.
"If we get this right, we'll never go back to normal." Instead of focusing on the struggles and suffering brought on by the pandemic, Kate DeCiccio utilizes her art as a radical invitation to imagine a different,more just and equitable world. This piece reminds us we are in a moment of deep transformation where many possibilities abound. Our organizational approach to messaging is strength-based, a stance highlighted beautifully here in profound prose. Artist Gabriela Alemán's artwork features a powerful portrait of a strong migrant woman. In face of crisis, art and culture assert fierce solidarity with frontline workers with a bold and unapologetic statement that our people are essential, not disposable. With both subtle and striking hues, the illustration features a face mask which has quickly become a symbol of protection and safety. This art commissioned by The Center for Cultural Power received the most public reshares on high-follower Instagram accounts, such as the Women's March and Times Up. The immense response to this piece illustrates the need for more representation and recognition of migrant women.
Undocuqueer Chicago-based Brian Herrera's illustration of a migrant worker with the words "Workers First" couples migrant justice with economic and labor justice. The piece is one in a series of two created in partnership with the Farmworkers Pandemic Relief Fund. The collaboration, which has translated into direct, tangible support for migrant farmworkers, may be one of the contributing factors in the success of this post. This visual art piece is timely in a critical moment where undocumented and migrant "essential" workers are putting their lives, health and safety at risk. The call for "Workers First" is a call to challenge systems of capitalism and white supremacy that profit from the exploitation of our people. Artist Jorge Garza centers the plight - and might - of another sector of essential labor, healthcare workers. His illustration is grounded in strength while also calling out the great risks facing medical professionals we rely on to save us. The news and popular media show healthcare workers in a deep crisis over access to PPE (Personal Protective Equipment). Garza uses art as a response by bringing together depictions of a medical professional with a Mexica style, imagery both striking and culturally resonant. This is a critical moment for solidarity with all workers who are "essential" receiving little protection as they put their lives on the line.
In addition to posting these pieces,The Center for Cultural Power adapted and evolved our strategy to support artists, recognizing the influence they wield in this moment, at the same time they face loss in income and opportunities. We commissioned two Instagram Live events, partnered with a leading public health organization and an immigration rights movement group and continue to invest and amplify artists and cultural strategy in action.